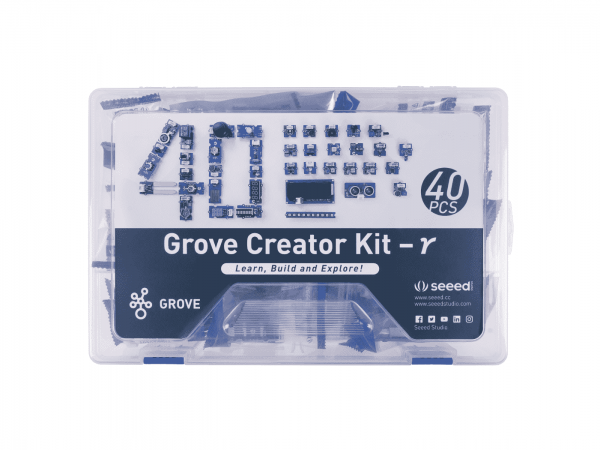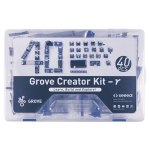 PRODUCT DETAILS
Attention
We will give away a full-color paper tutorial with more than 100 pages for the first 100 customers who purchase this kit.
Feature
Large amount: 40 Grove functional modules
High-cost performance: 40 modules with a total value of more than 170 US dollars, now only half the price!
Detailed tutorials: specific tutorials for each module
Well compatibility: Can be used for Raspberry Pi and Arduino programming
Description
Grove Creator Kit contains 40 different Grove modules which is a very useful kit that can help you get started with Arduino quickly. With all kinds of modules like analog inputs, sensors, displays, etc, you will be able to create tons of projects of your own. More specifically, it contains 5 actuators, 10analog inputs, 4 displays, 6 LEDs, and 15 sensors. By combing these modules skillfully, you will be capable of doing so many things.
All modules are packed in one box. If you purchase them spreadly, it will cost $176 and yet the whole box only takes you $86 which is almost half the price. Additionally, we provide more than 100 pages of free tutorials for each module. It provides codes and methods of connection that can help you get started with each module quickly. To show what you are capable of creating with these modules, we also provide some interesting projects like Smart Music Box, Smart Garden, etc as examples.
Furthermore, all the modules in this kit are supported by both Arduino and Raspberry Pi. The kit needs a new Arduino or Raspberry Pi. You can purchase our Seeeduino Lotus (Arduino compatible board) or Wio Terminal for your starting journey with Arduino.
Application
Smart Music Box
Smart Garden
Smart Cup
Part list
Actuator
Grove – Magnetic Switch

x1    

Grove – Vibration Sensor (SW-420)
x1
Grove – 4-Digit Display
x1
Grove – RTC

x1

Grove LED Bar v2.0
x1
Display
Grove – Ultrasonic Ranger

x1

Grove – Speaker

x1

Grove – Buzzer

x1

Grove – 16 x 2 LCD (White on Blue)

x1

Input
Grove – Temperature Sensor

x1

Grove – Sound Sensor

x1

Grove – Line Finder v1.1

x1

Grove – Chainable RGB Led V2.0

x1

Grove – Infrared Emitter

x1

Grove – Yellow LED Button

x1

Grove – Blue LED Button

x1

Grove – Red LED Button

x1

Grove – Moisture Sensor

x1

Grove – Tilt Switch

x1

LED

Grove – Red LED

x1

Grove – Multi Color Flash LED (5mm)

x1

Grove – Switch(P)

x1

Grove – Blue LED

x1

Grove – Button

x1

Grove – RGB LED Stick (10 – WS2813 Mini)

x1

Sensor
Grove – Water Sensor

x1

Grove – Rotary Angle Sensor

x1

Grove – Light Sensor v1.2

x1

Grove – Green LED

x1

Grove – Relay

x1

Grove – Temperature & Humidity Sensor (DHT11)

x1

Grove – Thumb Joystick

x1

Grove Creator Kit – γ / 40 modules Arduino Starter Kit

$118.00

Grove Creator Kit contains 40 different functional Grove modules that can help you build tons of projects. All kinds of modules are powerful and they are suitable for so many circumstances. The whole kit is almost half the price of all modules spreadly. And it is supported by both Arduino and Raspberry Pi.

Grove Creator Kit – γ / 40 modules Arduino Starter Kit

$118.00

Grove Creator Kit contains 40 different functional Grove modules that can help you build tons of projects. All kinds of modules are powerful and they are suitable for so many circumstances. The whole kit is almost half the price of all modules spreadly. And it is supported by both Arduino and Raspberry Pi.

PRODUCT DETAILS

Attention

We will give away a full-color paper tutorial with more than 100 pages for the first 100 customers who purchase this kit.

Feature

Large amount: 40 Grove functional modules
High-cost performance: 40 modules with a total value of more than 170 US dollars, now only half the price!
Detailed tutorials: specific tutorials for each module
Well compatibility: Can be used for Raspberry Pi and Arduino programming

Description

Grove Creator Kit contains 40 different Grove modules which is a very useful kit that can help you get started with Arduino quickly. With all kinds of modules like analog inputs, sensors, displays, etc, you will be able to create tons of projects of your own. More specifically, it contains 5 actuators, 10analog inputs, 4 displays, 6 LEDs, and 15 sensors. By combing these modules skillfully, you will be capable of doing so many things.

All modules are packed in one box. If you purchase them spreadly, it will cost $176 and yet the whole box only takes you $86 which is almost half the price. Additionally, we provide more than 100 pages of free tutorials for each module. It provides codes and methods of connection that can help you get started with each module quickly. To show what you are capable of creating with these modules, we also provide some interesting projects like Smart Music Box, Smart Garden, etc as examples.

Furthermore, all the modules in this kit are supported by both Arduino and Raspberry Pi. The kit needs a new Arduino or Raspberry Pi. You can purchase our Seeeduino Lotus (Arduino compatible board) or Wio Terminal for your starting journey with Arduino.

Application

Smart Music Box
Smart Garden
Smart Cup

Part list

Actuator
Grove – Magnetic Switch

x1    

Grove – Vibration Sensor (SW-420)
x1
Grove – 4-Digit Display
x1
Grove – RTC

x1

Grove LED Bar v2.0
x1
Display
Grove – Ultrasonic Ranger

x1

Grove – Speaker

x1

Grove – Buzzer

x1

Grove – 16 x 2 LCD (White on Blue)

x1

Input
Grove – Temperature Sensor

x1

Grove – Sound Sensor

x1

Grove – Line Finder v1.1

x1

Grove – Chainable RGB Led V2.0

x1

Grove – Infrared Emitter

x1

Grove – Yellow LED Button

x1

Grove – Blue LED Button

x1

Grove – Red LED Button

x1

Grove – Moisture Sensor

x1

Grove – Tilt Switch

x1

LED

Grove – Red LED

x1

Grove – Multi Color Flash LED (5mm)

x1

Grove – Switch(P)

x1

Grove – Blue LED

x1

Grove – Button

x1

Grove – RGB LED Stick (10 – WS2813 Mini)

x1

Sensor
Grove – Water Sensor

x1

Grove – Rotary Angle Sensor

x1

Grove – Light Sensor v1.2

x1

Grove – Green LED

x1

Grove – Relay

x1

Grove – Temperature & Humidity Sensor (DHT11)

x1

Grove – Thumb Joystick

x1